Brunner Group Guide to Selling Your Home
LIVE.LOVE.LIFE in LANCASTER COUNTY

- We live here, we work here, and we love our community. It's made up of amazing neighborhoods with each offering residents a unique lifestyle and amenities. With great schools, parks, shops, restaurants, culture, festivals and more. Lancaster County offers a little something for everyone. Looking for something unique?

Let Us Know
Sign in to Save Your Searches & Favorite Homes

Please use the contact form on this page!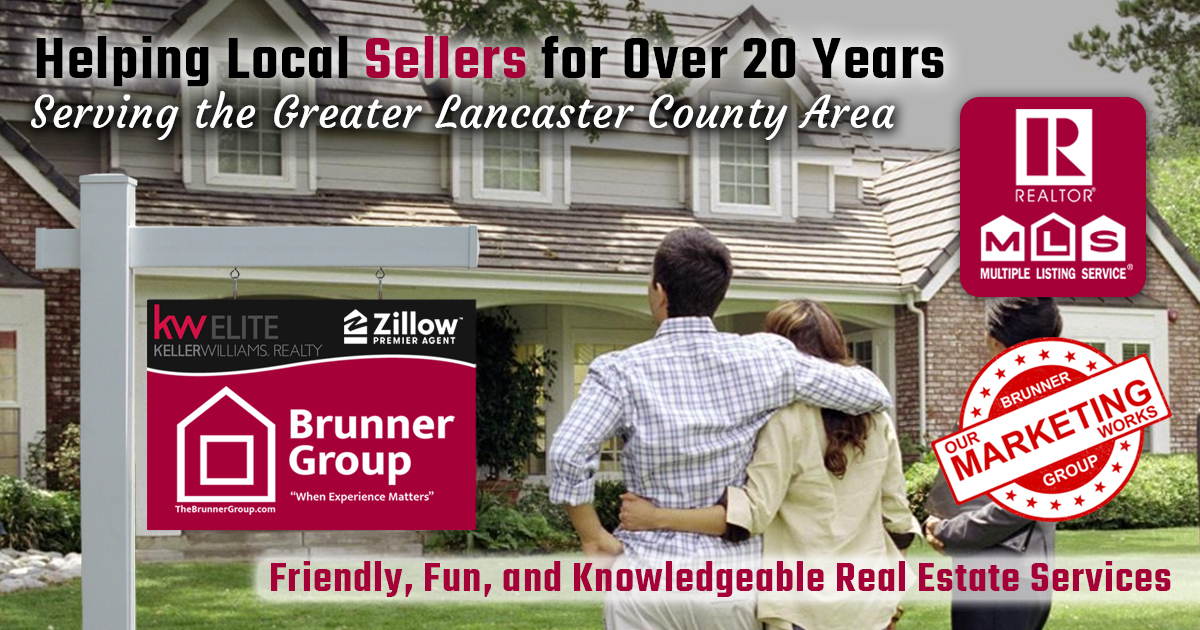 You deserve a Realtor that will share your goals and can be trusted to expertly market what may be the single most valuable asset you own. You can be comfortable knowing that The Brunner Group will share your expectations and concerns and will work to make all aspects of the sale of your home a positive experience.
Finding a buyer for your home

Sell your home within a time frame

Price your home competitively (Home Valuation)

Suggest staging & improvements for maximum price

Help with paperwork, inspections, & settlement

Negotiate & deal with buyers

OUR 30 DAY GUARANTEE! (Learn More)

EXPERIENCE MATTERS - The Brunner Group offers you sales, negotiation, marketing, analysis, representation, and just plain old good advice. We implement the most effective integrated marketing strategies in the area. We are with you every step of the way and recommend the best mortgage and title companies, home inspectors, and repair contractors to ensure everything goes smooth through the entire process.

EFFECTIVE COMMUNICATION - Home sales is an evolving process, it's the nature of the business. We'll know what's going on in every step of the process, and so will you because the better we communicate, the more effective we can be.

COMMUNICATION - The Brunner Group's dedication to our client's best interests and concerns ALWAYS come first. We maintain continual communication throughout every transaction effectively guiding you through a seamless and transparent process. Let us put our local expertise and extensive real estate experience to work for you.
CLIENT SERVICE - We listen to your needs and concerns to achieve the best possible outcome in every transaction to ensure that your experience is fun, easy and stress-free. Clients can count on our team any time when they have a question or concern. We earn the respect of their clients by working tirelessly on their behalf by always offering them straightforward advice and guidance.

TECHNOLOGY - In the ever-changing world of real estate, advancements in tech are fueling the industry. However, many aren't effectively utilizing technology. The modern real estate marketplace is continually changing. You can ensure you will have the most effective services for your properties and listings. We are industry leaders in providing real estate technology solutions.

STRATEGIC MARKETING - The Brunner Groups comprehensive, integrated marketing plan works. Fresh, highly-targeted content delivered to the precise audience for maximum exposure of your property on a continuous basis. The Brunner Group are more than Realtors, we are a marketing and data company that specializes in customer service.

MARKET DATA - Our market data analysis covers trends in home buying and selling, median home values, the median price per square foot, number of transactions, and other pertinent information about the local market.

A TRACK RECORD OF SUCCESS - The Brunner Group measures its success not only by the number of homes sold but by the satisfaction of so many clients. We pride ourselves on the growth of our business from so many referrals and returning clients. Join the growing number of well-satisfied clients and learn why we're different.